Needling nonwoven technology---Multi-function customization is more flexible
Views:1 Author:Site Editor Publish Time: 2021-06-02 Origin:Site
Acupuncture is showing strength in a range of durable markets. With its versatility and flexibility, needled nonwoven technology continues to grow in durable markets such as automotive, geotextiles, filtration, furniture, and other markets.
"In terms of productivity, needling is now the second largest area after spunbond technology. It's a growing market, "says Jean-Philippe Dumon, sales director for non-woven fabrics at machinery supplier Andritz Asselin-Thibeau. Compared with other technologies, needling technology has a lower threshold of investment, allowing manufacturers to achieve multiple goals with only one production line. Needled nonwoven fabrics can be made in a variety of gram weights and can be made from a wide range of natural and synthetic staple fibers.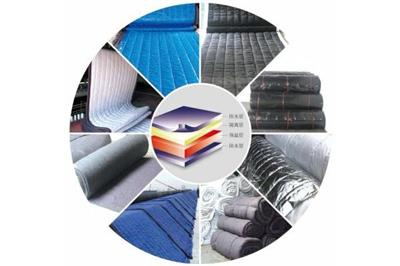 "Needling is a very general-purpose technology," says John McNabb, CTO of Corderbaum High Performance Materials. "It is cost-effective and has really advanced over the last 15 years to produce a more uniform, lighter weight product. We can use different polymers, different types of fibers, so it's very flexible." Increasingly, nonwovens will be used in vehicles to reduce weight and improve gas range, and can also be used in future new types of vehicles, such as electric or fuel cell vehicles. "They will have a high demand for sound-absorbing materials and insulation materials, and that's where acupuncture technology will come in," he added. At the same time, due to its cost effectiveness, needled cloth is also needed in the building, it can use different types of short fibers, and can provide the required tensile and elongation strength.
DALCO: Sound insulation and energy saving
North Carolina-based Dalco Nonwovens manufactures needled Nonwovens for automotive, geotextile, industrial/construction applications, and more.
Dalco says growth in the needling market is being driven by two factors - sound insulation and energy efficiency. Gale Shipley, Sales Manager, Dalco Nonwovens, said, "As urban infrastructure requires multi-family high-rise buildings and the automotive sector is moving toward electric vehicles, there is a need for sound insulation. In architecture, sound and heat insulation of floors and walls is of Paramount importance. In electric vehicles, reducing the amount of sound that goes into the car is also critical to the driver's enjoyment of the driving experience. In terms of energy efficiency, most vehicles are installing underbody shields to eliminate air drag and thus improve the energy efficiency of electric vehicles or gasoline fuels."
Needled nonwovens are ideal for these market segments, Shipley says, because of its flexibility and functionality that can be adapted to a variety of applications. "Fiber denier or blended fiber, weight and many other manufacturing parameters can be quickly modified to provide an ideal choice for any application."