Application prospects of filtration and separation industry
Views:30 Author:Site Editor Publish Time: 2021-04-16 Origin:Site
Filtration and separation textiles are an industrial consumable. National environmental protection requirements will maintain the current relatively high standards, and the industry is expected to continue to maintain rapid growth. China has established a complete industrial chain from high-performance fibers to engineering services in this field, and has strong competitiveness. After using plasma, stream etching, corona discharge and other methods to carry out surface graft modification of the meltblown nonwoven fabric, the filtration efficiency has been greatly improved. It is expected that in the next 20 years, innovations in non-woven filter materials and membrane technology can more effectively desalinate seawater, and the market demand will be huge in the future. Membrane separation technology has been widely used in many fields, and large-scale application and promotion is the key development direction of polymer separation filter materials in the future.
At the same time, the urgency of environmental governance provides the industry with a golden opportunity for development. Enterprises in the industry should seize the opportunity to accelerate development. On the whole, the overall situation of the industry in 2018 is good, but some problems need to be gradually overcome in the future.
In 2019, under the situation of insufficient economic growth momentum and increasing pressure for transformation, the industry should continue to focus on integrating innovation, improving management levels, shaping core competitive advantages, strengthening talent training, and rational competition in integrity management, and form a standardized market system. Improve product quality stability, seize development opportunities, advance the strategy of going global, and take the road of international operation to promote the high-quality development of the industry.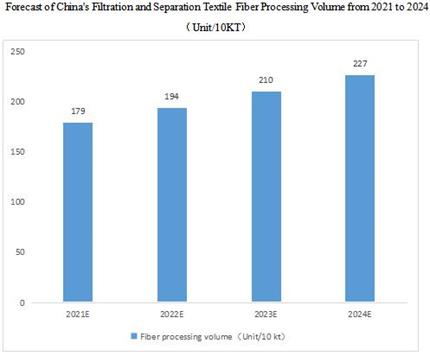 According to the forecast of the Prospective Industry Research Institute, China's filtration and separation textile fiber processing volume will continue to rise in 2019-2024, and is expected to reach 22.7 billion yuan in 2024.